Our PVC curtains are simple and effective means for averting air exchange between the different premises. They preserve cooled air in summer and warm air in winter. It is an excellent protection from moisture, drafts, noise, dust, birds and insects. Easy to pass by both people and transportation means thanks to flexibility and transparency of the plasticized PVC stripes as well as to the special system of their suspension. Suitable to install in the most varied premises – from freezers to large fridge storages and shop premises.
Construction of strip curtains is maximally simple: PVC stripes are freely hung on metallic bracket with overlap to each other.
Additional advantages of strip curtains are:
wearing proof (high resistance to break and tension of PVC material).
quick installation and dismantling of the stripes thanks to application of the original strip fastening system
fireproof (material does not support combustion)
correspondence to hygienic requirements (material is not toxic)
application of material of different colour range for special purposes (for example: installation of red strips on the curtain edges makes it possible to reveal the overall sizes of door aperture, which increases safety of the passage of apertures by people and by transportation means
simple cleaning with water and soap.
| | |
| --- | --- |
| Used in special production shops of meat and fish processing enterprises | Used in the stores and the supermarkets for premises separation on the hygienic requirements |
| Installed in large door apertures of warehouse premises for averting warm air loss | Used as detachable soft walls, partitions and barriers in the premises and production shops |
| They can be used as a special curtain for commercial shelves, which improves safety of the products | Used for special purposes with the use of material of different colour range |
Flexible, plasticized PVC material
has such technical characteristics:
Characteristic
Method
Formula P.35
standard
Formula P.45
low-temperature
Unit of measurement
Relative density – 5G
620А
1.22
1.18
г/см3
Softness temperature
365А
72
59
oC
Flexibility temperature
150B
-16
–42
oC
100% tension module
320А
7.86
5.60
-
Break tension
320А
380
420
%
Tension strength
320А
17.1
14.3
MN/m2
Light transmission
-
> 80
> 80
%
The following standard sizes of PVC stripes are used:
| | | | | | | |
| --- | --- | --- | --- | --- | --- | --- |
| Width, mm | 100 | 200 | 300 | 300 | 400 | 400 |
| Thickness, mm | 1,2 | 2 | 2 | 3 | 2,5 | 4 |
Basic colour range of the material:
transparent,
white,
grey,
black,
red,
dark-blue,
green,
semi-transparent bronze (amber).
In order to increase wear resistance of the strip curtains during the intensive motion of transportation means, material with the special longitudinal edges can be used.
Construction of PVC strip curtains
consists of metallic bracket and strip suspension system. Strips are hung up freely and independently of each other on the bracket hooks with overlap, which is selected depending on the operating conditions of strip curtain. Bracket construction makes it possible to install strip curtains both directly into the door aperture and above the aperture (to the wall). Fastening to the wall is more preferable, since extreme tapes form overlap with the walls.
The freely and independently suspended strips are easily passed, it is possible to remove them, to transpose, to exchange with each other, to regulate overlap of strips and to use material of different width and thickness (combined version). Metallic bracket and strip suspension system can be made both of the galvanized metal and stainless steel.
On the base of this bracket, if needed, it is possible to make shifting strip curtain, with special guides and plastic rollers used.
Screens made of flexible PVC, protecting against ultra-violet radiation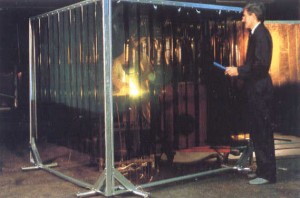 They are used as a simple and effective protection against ultra-violet radiation at carrying out of welding works. Ultra-violet radiation absorption factor is more than 98 % at transparency more than 65 %.
Flexible PVC tapes, fastened on special racks and overlapping each other serve as a screen. Racks can be set as separate cabins or partitions, as well as carried from one place to another. Such tape screens are easy to pass by the personnel
During welding works sparks of metal do not stick to PVC material thanks to its plasticity.